I was honored to be invited to speak at the Vinyl 360 Annual Meeting and join colleagues from across the vinyl value chain to discuss and participate in the industry's strategic path forward.
It was a great meeting! Besides my own presentation which provided an analysis of the 2019 Specifiers' Perceptions' Survey regarding vinyl and vinyl building products, I heard from a variety of professionals and their respective organizations about this remarkable product.
There were panel discussions with experts in recycling and waste recovery talking about long-term strategies for addressing emerging issues, an in-depth look at the latest legal, regulatory and legislative priority facing the Vinyl industry topped off by the Vinyl Industry Award Recognition Dinner. Rocky Bleier, Vietnam veteran, retired Steelers running back and author of Fighting Back, presented a remarkable keynote at that dinner on Nov. 6.
The Vinyl Institute (VI) was founded in 1982. It is a U.S. trade association representing the leading manufacturers of vinyl, vinyl chloride monomer, vinyl additives, and modifiers, working on behalf of its members to promote the benefits of the world's most versatile plastic, used to make everything from PVC piping to flooring, roofing and vinyl siding.
It is noteworthy that the vinyl industry in the United States employs over 350,000 highly skilled employees at nearly 3,000 facilities and generates an economic value of $54 billion. I learned all that, and much more. Here's a recap.
This is an organization focused on sustainability in a big way, as their sessions and discussion during this meeting demonstrated.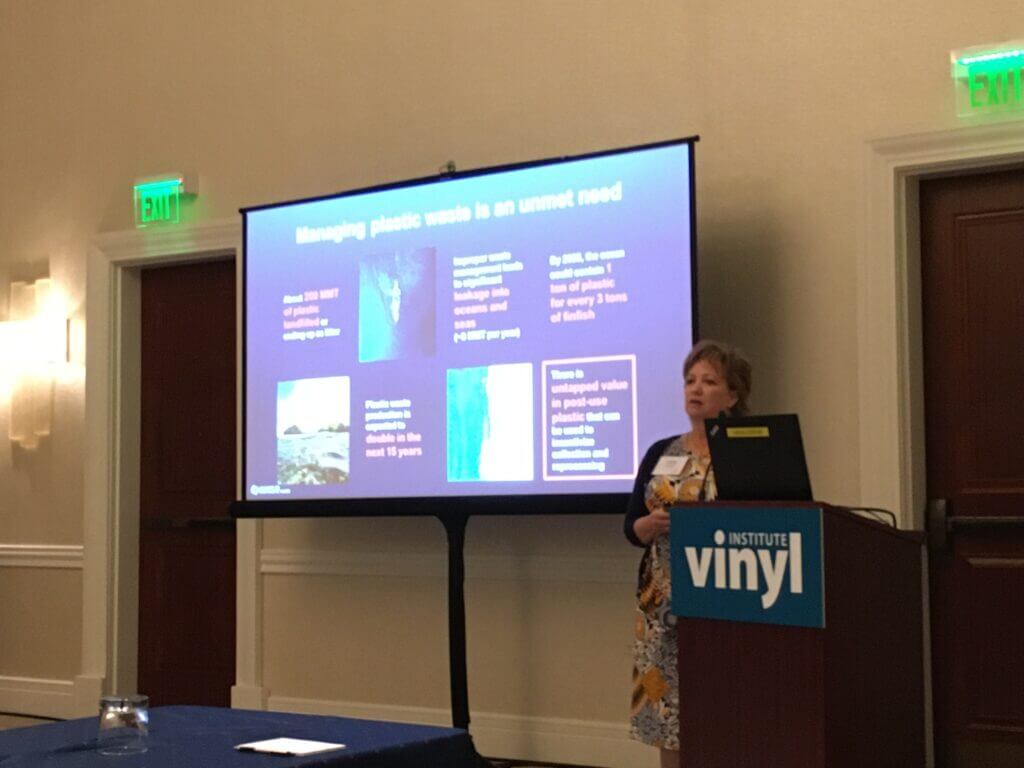 For example, Leslie Hushka, Senior Sustainability Advisor, ExxonMobil, presented (following the Board of Directors meeting), a comprehensive overview of the global strategies and priorities impacting the entire plastic industry through the Alliance to End Plastic Waste.
She noted that 200 million metric tons of plastic waste is disposed of every year – a figure expected to double in the next 15 years. The Alliance has been created to address that challenge, and "capture that back and put it into a circular approach." They view this statistic as an opportunity.
I learned that they want to attack this problem, combining expertise of the entire value chain from raw material to manufacturing to brand, retail and waste management. "We want to take the great work from those industries and look at the work they are all doing in the aggregate," Hushka emphasized. "That's why we are a project organization, not an advocacy organization."
She gave credit to the World Business Council for Sustainable Development, for helping them establish the Alliance. They intend on investing $1.5B USD over five years, currently working on 13 formally approved projects.
"It's about the data," she stressed. "If you design solutions, do you have the data to figure it out? Specific data are not often there, so there is no opportunity to quantify the effort. You need data."
Endplasticwaste.org was also mentioned for board members as a reference as Hushka explained their goal to bring the waste back into the supply chain. Over her more than 20-year career at ExxonMobil, she has evolved into her current role of Senior Sustainability Advisor. She holds a Ph.D. in pharmacology and toxicology from Purdue University and is board certified by the American Board of Toxicology.
Where Should We Go, Now That We Know? Uncovering Strategies from Research
My presentation was during lunch and focused on research we conducted on behalf of the VI. We have worked for our client for over 15 years and conducted this study every few years to watch changing attitudes toward this vinyl and the products that comprise its use.
The most striking statistic was that the overall use of Vinyl virtually doesn't change: Everyone uses and specifies vinyl, and at least half of all projects use it. While frequency of use varies by type of professional and type of project, its use is as strong today as in 2003 when we first took the measurement.
In floor, furniture, upholstery, fabric, wall covering, fencing, plumbing, and a myriad of other products, vinyl continues to be specified by most professionals. And the reasons are not hard to understand: it is easy to clean and maintain, meets the client needs, has durability and long-term performance, and has an unmatched design and aesthetic appeal among other characteristics.
Of course, professionals also pointed out that they have some concerns about the environment and health-related issues, but they also told us where they go for information to help their clients understand and overcome these issues. More important, they specifically told us what they need from the manufacturers to help them understand and specify products with vinyl.
Specifically, they need data, and lots of it. They need testimonials about its successes, and life-cycle assessments. Most important, they need it from the manufacturers themselves – a point that was not lost on the audience.
My presentation also touched on the speed of information (and misinformation) these days, quoting Jim Mattis from his recent book, Call Sign Chaos. "Digital technologies can falsely encourage remote staffs to believe they possess a God's-eye view of combat. Digital technologies do not dissipate confusion; the fog of war can actually thicken when misinformation is instantly amplified."
Afternoon Sessions
After lunch, the day was comprised of three task force meetings, each of which presented and discussed specific issues, and then broke out into table discussions, with each table reporting their findings and recommendations to the group leader. It was one of the most intriguing meetings I've attended, and brought out eager discussions about important issues.
For example, the VSC V-Cycle Task Force focused on the VSC's three impact areas, Landfill Diversion, Health and Safety, and Emissions. In the first of the three task force sessions, we heard how the vinyl value chain is working to address our landfill diversion goals and discuss steps. Rick Wagner, Sustainability Policy & Program Manager for Chevron Phillips and Chairman of American Chemistry Council's Plastics Recycling and Recovery Team, discussed the task groups' efforts around recycling and reuse.
In the VSC Health and Safety Task Force, the second of three task force sessions, the focus was on health and safety issues. Moderated by David Adenuga from ExxonMobil, the panel was comprised of Mary Bachynsky from Formosa Plastics Corporation, Chris Krishna from Occidental Chemical Corporation, and Kenny Akins from Westlake Chemical Company.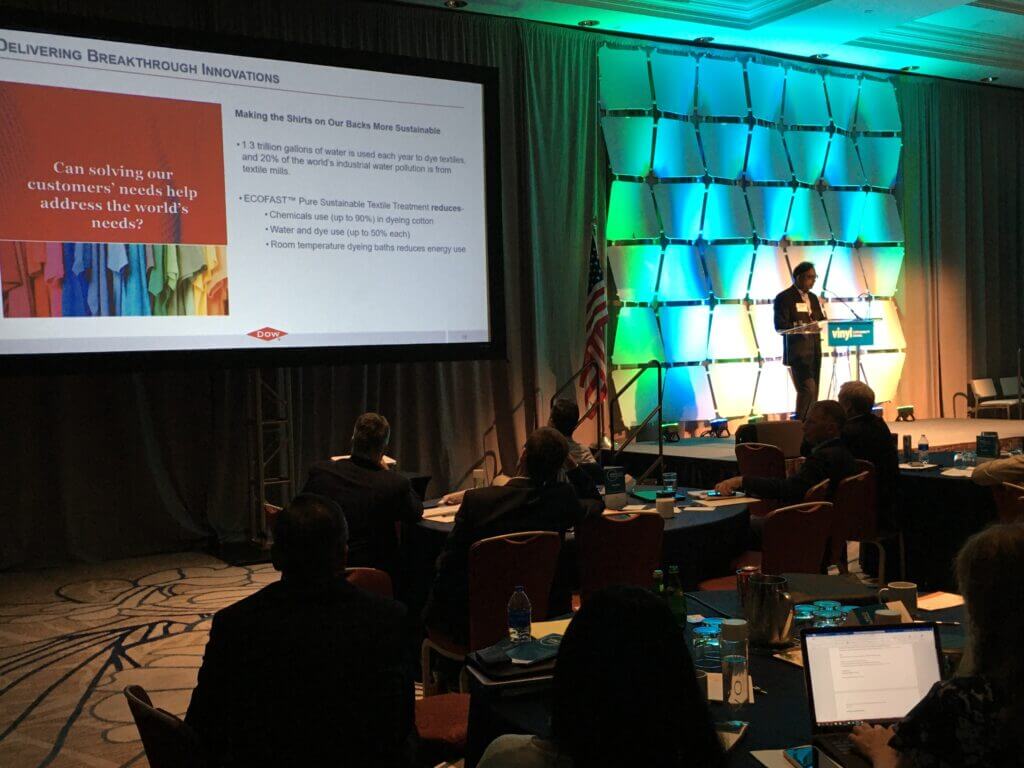 The third session, the VSC Emissions Task Force covered the vinyl value chain progress on emissions. We heard from Ramesh Iyer, Global Sustainability Director, Coatings, Monomers and Plastics Additives for Dow Chemical Company. Ramesh told us how Dow advances a circular economy by delivering solutions to close the resource loops. Some of the statistics he shared were overwhelming. For example, he cited that 1.3 trillion gallons of water are used each year to dye textiles, and 20% of the world's industrial water pollution is from textile mills. The company's ECOFAST™ Pure Sustainable Textile Treatment reduces chemicals use up to 90% in dyeing cotton. What the company is doing toward making a sustainable future is amazing – working in 68 countries with over 100 patent families.
Awards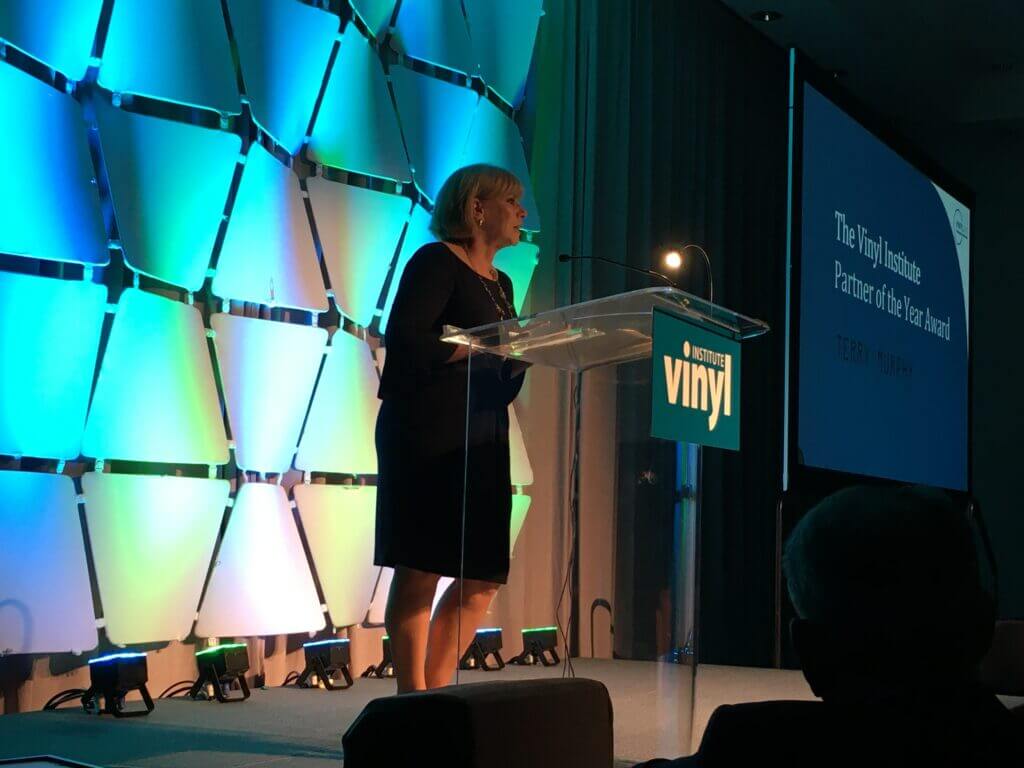 The Awards dinner capped off the day. The Vinyl Institute takes great pride in recognizing companies who drive the Vinyl message of sustainability as well as safety. One in particular was our friend, Terry Murphy, who was recognized as partner of the year. Terry has called on over 20,000 architects in her career and is a true professional's professional.
Other award winners were:
Rocky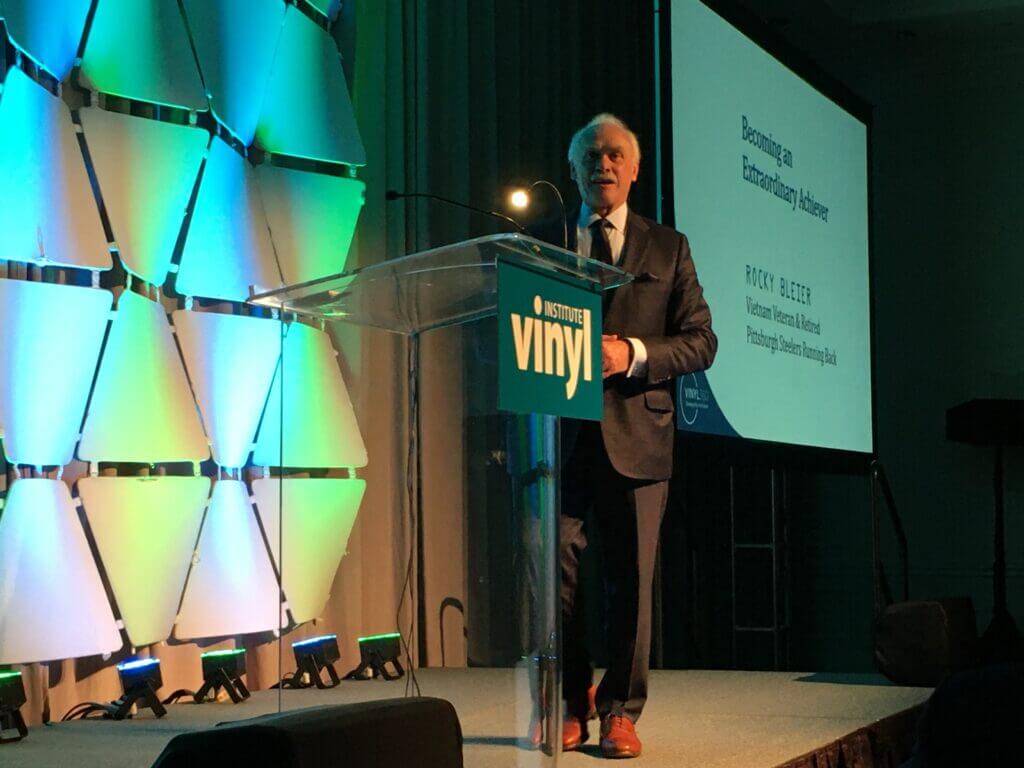 The finale was a motivational speech by Rock Bleier, Vietnam veteran, retired Steelers running back and author of Fighting Back. He delivered the inspiring keynote at the awards recognition dinner and gave us all knowledge and ideas as to how we can become extraordinary achievers and define success in this new American century.
The leadership gavel was passed on, honoring Dick Heinle to the new Chair, Jason Hart. Congratulations to all…it was an inspiring experience for me personally.