I was part of a CEO Roundtable at the Palatine Young Entrepreneurs Academy (YEA!) class on February 11, 2020.
YEA! focuses on entrepreneurship. They guide and encourage middle and high school students not only to stress the importance and purpose of social and business entrepreneurship, but also the process for establishing a business enterprise or social movement.
YEA! students are taught to write business plans, prepare and pitch their ideas to investors, obtain financial backing, register their businesses and social organizations, as well as develop marketing plans and materials, prepare for trade shows, and, of course, sell their products and services.
The panel – comprised of myself, Christine Specht of Cousin's Subs, Phillip Coffey from OMI Industries, and Larry Moats from Moats Office Properties, invited to share our entrepreneurial stories. Steven Gaus, the Executive Director for the Palatine Chamber of Commerce, hosted the event (shown in the photo).
After giving a brief overview of our businesses, the students were given the opportunity to ask us questions. That's where everything changed.
Out of the Mouth of Babes
I found the questions from this group of students profound in terms of their complexity. What they asked was surprising for their young age.
When I was their age, I was flunking woodshop and generally, bored in school. These were bright, eager kids hungry for the knowledge of business. It showed in their faces, but most of all, in the questions they asked.
It was, no doubt, the result of the YEA! curriculum and teachers and others who spur these youngsters forward.
I wanted to share the questions with you and provide extended answers from my own experiences in business, which the evening time frame simply did not permit.
Mainly, these questions apply to EVERYONE in business, so you may want to share your answers here in this blog as well to give the students YOUR point of view. Frankly, the questions are the kind of questions people who run businesses or business units often forget or take answers for granted.
While everyone on the panel gave answers (I believe they will post the video of the event), I think the questions should stimulate your own thinking about your business, whether you own it or work for someone else in a leadership capacity. Perhaps my extended answers will provoke additional response as well. Here are the questions the students asked:
What's the process of selling to stores?
What did you have to do to start your business?
What is your marketing strategy?
What was it that made you an entrepreneur?
What's the biggest mistake you made?
How do you overcome hardship?
What's the most important thing for a CEO to know?
What online ad platforms do you use?
What are the characteristics you need to attack problems?
How do you establish the culture in your company?
See what I mean about complexity? Here's my take.
What's the process of selling to stores?
This first one stunned the panel in my opinion. And even though some answers were given, they all fell way short of really answering the question. Why?
Simply because of the internet.
The internet changed EVERYTHING. There isn't a business that hasn't been changed because of it, but it's especially true of the retail channel.
In his book, "DIGITAL DISRUPTION," James McQuivey of Forrester Research aptly discusses how in every industry, digital competitors are taking advantage of new platforms, tools and relationships to undercut competitors, get closer to customers and disrupt the usual way of doing business. His book is so well documented and written, that he has become the foremost analyst tracking and defining the power and impact of digital disruption on traditional businesses.
For example, McQuivey says, "Any customer that starts by asking what it can do next will fail to understand what the customer needs to do next."
Think about Blockbuster. How many stores were there in the United States? Where are they now? Or think about Uber and its disruption of the Taxi channel.
According to Moneywise, "Forever 21, Walgreens, Dressbarn, GameStop, Gap and other chains shut down more than 9,300 stores in 2019 — making it the biggest year ever for store closings."[1] What's worse, UBS says as online shopping continues to grow, another 75,000 stores could be lost by 2026.[2]
And consider Sears, which merged with Kmart in 2004. Combined, they had 355,000 employees and more than 3,500 stores in 2006. Today? Who knows for sure? On October 15, 2018, Sears filed for bankruptcy and announced the closure of 142 stores. Sears plans to close at least another 121 stores by mid-2020.
Define your Terms
Aristotle always said, define your terms. So, the question for the students is, What kind of store are you talking about?
There are only two kinds of stores: online or brick and mortar. For each, the process of sales is different. For each, there are different problems. There are probably enough issues to cover in a week's seminar study.
But, the fact that the student asked the question demonstrates profound insight into the world of business. In all business, there is what is called a "path to purchase." Understanding the path, its turns and obstacles, is part of any entrepreneur's study. And it was clear these students wanted to sort that out.
What did you have to do to start your business?
This was a very interesting question, but the answer is the same, regardless of who was on the panel: get customers.
Of course, depending on the business, "customer" can mean different things. For example, for Larry Moats, "customer" means tenants. For Christine Specht, "customer" means people who buy and eat sub sandwiches. For Phillip Coffey, "customer" means consumers who want to eliminate odors. Each of these entrepreneurs competes against different competitors in their specific market who also want the same thing they want: "customers."
Very early in my business I learned this truth: no two companies can coexist that make their living in the identical way. This means that any company, in order to survive, must uncover and promote what are its unique advantages. It must also have the capacity to change those advantages quickly and then communicate those changes to its markets.
I wrote that in 1990, when I started my business. The truth of the statement hasn't changed. Nor have these statements which were also written in 1990:
The classic ways of trying to gain a strategic advantage was to either lower your prices or emphasize the benefits of your products and services that made you different from your competitors. Doing just that today is not enough because there's too much competition. There is no way for any company to either price effectively against everyone all the time, nor have its product/service positioned as significantly different for any acceptable length of time.  Information is shared too rapidly, intensifying today's competitive climate.
Besides, these classic tactics have serious negative implications because of today's fast-paced environment. Lowering prices and declaring a price war gains only temporary relief from competitive pressure. It causes quick, knee-jerk reactions from everyone involved in the price war(harming profit). Worse, price cutting causes brand erosion. Any price cutting will erase value from your brand twice as fast as it took you to build it into the brand.
Likewise, emphasizing what makes your products and services different than competitors is insufficient. Since information travels to your competitors rapidly, it doesn't take long to duplicate those benefits. As a result, your marketplace is much more volatile than ever before because differences between companies blur.
And it will stay this way. This escalation of competition really means it is no longer a war of product vs. product or service vs. service. It has become company vs. company war, which now means your overall capacity for response and action are central to achieving your business goals.
It's only worse now. Starting a business has NEVER been more difficult. That's why the energy, confidence and hunger of these students was so impressive. They already know to roll over obstacles, not be stopped by them. They just need differentiation! And customers!
What is your marketing strategy?
To even ask about strategy was extraordinary at their ages. Strategy is without doubt the single most important aspect of starting a business.
I have blogged extensively on the topic, because with the right strategy, everything else falls into place.
In Who's on first when it's about strategy? I talk about the March 20, 2012, Paul J. H. Schoemaker article 6 Habits of True Strategic Thinkers on www.inc.com. I asked this question: "But if you had one shot – if you could only pick one source to help you with strategy – would it be Schoemaker? In other words, who's on first when it comes to strategy?"
I then argued why it wouldn't be Schoemaker. His six habits – Anticipate, Think Critically, Interpret, Decide, Align, Learn – are nice, but can be boiled down to Alexander the Great's philosophy: Anticipate, React, Adapt.
I concluded in my post: "If it is true that you need conflict to have a strategy (and it is true), and if conflict is always present in business and in nature, then not having a strategy is virtually impossible. If you go out of business, it simply means your strategy was flawed."
As Jim Mattis points out in his book, Call Sign Chaos, "Strategy is hard, unless you're a dilettante. You must think until your head hurts."
My head hurts every day. But, our marketing strategy is simple: anticipate how to get new customers and satisfy the ones we have; react and take actions to do that; adapt the tactics once the results are in from the previous actions. It has kept us standing since 1990.
By the way, flawed strategy is what Sears followed. It began when they made serious tactical mistakes based on that wrong strategy, the most important one being they don't need their catalog. Because if you think about it, the catalog was the internet: it was in most homes! It gave Sears access to millions of consumers – just like today's Internet. In fact, I would argue if only they had kept it, they would be Amazon today!
What was it that made you an entrepreneur?
This very personal question was interesting and suggested the students were wondering if they had our characteristics within their own. Again, a very insightful question.
From a personal point of view, I have never viewed my self as an entrepreneur. I'm a businessman. What made me a businessman was being fired three times. After the third time (I was the creative director for the 8th largest direct response agency in the country), I told my wife I can keep doing this (working for others, making a lot of money and then getting fired for opening my mouth), or try to start my own business. With her help and encouragement, I did just that in 1990 and haven't looked back.
What makes you a businessman, woman or entrepreneur is an insatiable hunger for something. And, if you can do that something and make money– in my case, it was solving problems and helping clients make money — you are probably in a good place to be in life.
Being in business for yourself is being able to control your destiny to a larger degree than working for others. It means making difficult decisions. It means failing – everyday. And it means sacrifice. Time is the only non-renewable resource in the world. And running a business sucks up vast amount of time – all of which you never get back. So, you better trade your time for something you enjoy, are good at and love.
That's also why business – entrepreneurship – isn't for everyone.
What's the biggest mistake you made?
I had to qualify this question by challenging the student who asked it with this question: "Why did you use the adjective 'biggest'?"
Then I qualified my question with this statement: "We make mistakes every day. But as Duke Ellington said, 'A mistake is a chance to show your best.' That's why we embrace mistakes, and we attack them."
Our company practices Kazien. For us that means when a mistake happens, stop what we're doing, figure out WHY it happened, put into place measures to prevent it from happening again. We do that each and every day to the best of our ability. Very difficult.
I gave an example to the students that occurred that very day: we issued 139 incorrect 1099 forms. We run spiff programs for clients, and for this particular client, we had merged (the mistake) 2019 payouts with 2020 payouts and reported that amount to the IRS. The government likes to keep reporting clean, meaning each year is separate. When I found out about the mistake of combining payouts from two years, the first question I asked was, "When did you find out you made this mistake?"
The answer was the previous day. My next question was, "What are we doing about it to correct it and see it doesn't happen again?"
The answer I received was, "We are issuing corrected 1099 forms."
I said good, but not enough. You see, if a mistake is a chance to show your best, you have to show your best. Just sending out corrected documentation isn't enough. What if people had already filed their taxes? They would have to file an amended tax return. That would cost them money for our mistake. That can't happen.
Here are the orders I issued.
Call each of the 139 people and admit the mistake and apologize.
Ask if they had already gone to their accountant. If no, proceed to tell them the correct information. If yes, tell them we will pay for the amended return charges by the accountant.
Assure them we are correcting the mistake with the IRS. We will issue them a new 1099.
Apologize for the mistake again.
Send out the revised 1099s priority mail.
Engage them in a conversation about the program.
Some people might look at that as excessive.
It wasn't. I made 15 of those calls personally, and I can tell you based on all the conversations, it was not only worth it, it brought us closer to all 139 people. In fact, on one of my calls, the person said, "I was just leaving for my accountant in 20 minutes!" I gave her the number for her meeting. It was one of those moments in business when you realize timing is everything.
That's what you do when you make a mistake. You show your best! If you want to read what not showing your best is, read my blog, Powerlessness: Why Organizations Fail at Customer Service. In fact, the bigger mistake, the better. In fact, another blog — Mistakes — talks about this indepth.
It's been my experience that almost all mistakes can be traced back to a human being. Being able to admit the mistake is the hard part. Fixing it? Well, that's the chance to show your best.
How do you overcome hardship?
I thought the story told by Christine Specht about her father pointing to the Silo on his farm and saying, "You fill that up and prepare for the drought," was great. Because hardships happen. Droughts will happen. And the only way to overcome them is to do as the Boy Scouts used to say, "Be Prepared."
But, "hardship" is one of the words that means a lot of different things to different people. It could mean not having enough food on the table. It could mean not being able to make payroll. Indeed, there are so many things it could mean, how can you prepare for everything?
The answer is you can't. But, you should try.
In my blog, Things could always be worse, I tell the story of how I once asked a friend – a former Marine Artillery Captain – what's the one piece of advice he could give me from his experiences that could help me in business? Without hesitation, he answered with a curious smile, "Things could always be worse."
In another blog post, WHAT'S THE WORST THING THAT CAN HAPPEN TO YOUR BUSINESS? I took another experience from a prior YEA! panel meeting to talk about what I heard from that group of students. You might like to read these to put overcoming hardship into perspective. This is especially true when one of those students answered my question about what's the worse thing that can happen to your business by responding with one word: "Assassination!"
He was right.
What's the most important thing for a CEO to know?
There were a variety of answers that came from the panel to this question. Mine was simple: learn to listen. Don Tickle, my friend and one of the best sales people I ever met once told me, "You never learn anything when talking."
For example, I was at a client's leadership meeting awhile back where 22 managers gathered from the company's 22 offices to discuss their objectives. One of the presenters said it best: "Just listen to your customers. Talk to them. You'll find everything you need to know. Then, give them what they want."
CEOs often forget this. That's because they can't divorce themselves from their role as CEO.
Entrepreneurs need to keep their feet on the ground. They need to know what people are feeling – people, not CEOs, or CFOs. It's been my experience that often, people tell you things based on your role, not as you.
There's a huge difference in playing a role, and who you are as a person.
Or there should be.
Taking on the role of a non-CEO once you are "the boss" is difficult. That's probably why the show, Undercover Boss, is popular now. It tries to show what happens when the CEO does in fact leave his role.
I remember when I was in the agency business we were flying out to Atlanta to meet "the President." I was told this guy was unbelievable – the head of a multi-million dollar company. A no-nonsense guy that didn't tolerate mistakes. A terror.
I was pitching advertising concepts, but since I was an English major and had met terrible people in classical literature (if you don't believe me, meet Raskolnikov in Crime and Punishment by Dostoevsky someday as an example), I went unafraid. I knew I had good concepts.
It was a great meeting. I managed to help him leave his role as CEO and become one human talking to another. My boss, who told me what a terror he was, couldn't believe it. We did great work for that account – until the CEO got let go!
What online ad platforms do you use?
In my webinar, Making More Sense with Social Media, I show a slide that talks about the social advertising channels that are available, and how impossible it is to identify – much less use for advertising – there all are. Wikipedia listed 210, with 349 footnotes for those channels in my slide.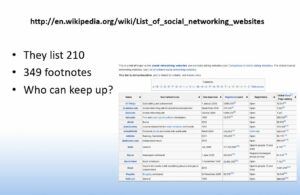 I checked today and now there are only 184 channels, with 309 footnotes. Things change. Moreover, the new list does NOT include SnapChat or most recently, Tik Tok.
Advertising is under siege. In my post, The End of Advertising Research As We Know It, I discussed the impossibility of not only measuring advertising, but I challenge the very definition of advertising. Ad platforms really must be examined closely, despite people pouring millions of dollars into them (just ask Google).
Advertising has always been associated with creating an image, reinforcing the brand and generating leads (not necessarily in that order). In traditional advertising, companies ran ads, collected and fulfilled leads. Or they did for branding??? in the case of consumers, practicing a "spray and pray" scenario.
The Internet disrupted all that. Witness what Amazon has done to the entire book industry at first and is not doing to other industries now. They make nothing; they simply distribute. They put the customer first. Every package they deliver is advertising for them now.
Advertising platforms are fraught with fraud, making them dangerous for entrepreneurs. Here is a good example: Wayfair.
Niraj Shah and Steve Conine started the company in 1995. Today, Wayfair is the world's 12th-largest online retailer with $6.8 billion in sales, still well behind Amazon and Walmart, but ahead of Best Buy and Costco, according to the research firm Digital Commerce 360.[3]
The company spends $1 billion in advertising a year because, all together now, the millennials are coming! In fact, their marketing team "has created a proprietary bidding algorithm for paid search and a machine-learning program to predict the value of approximately 20 million keywords."[4]
But, Wayfair lost more than half a billion last year and losses nearly doubled in the most recent quarter over the first quarter of 2018.
Who can afford to lose a half billion dollar? Who can afford to lose any amount
Anyone can lose that amount of money if there are no consequences to losing it. Heck, Wayfair should simply stop advertising and they would make a half billion!
Value propositions of advertising and where to advertise on what platforms must be examined carefully, with an eye on the bottom line. Sometimes, growth is so rapid, it's hard to stop and take stock of exactly what's going on.
Here's another example. In the most recent Comcast Corp. Investor Meeting to Discuss NBCUniversal's Peacock Streaming Service, this incredible statement was made:
As we looked at the market, we found it interesting that no one's focused on primarily, ad-supported premium content. In effect, it's a white space. And we look at that white space and get excited for a number of reasons. For consumers, we think this is the right offering at the right time. We believe affordability will be critical as more subscription sources are launched, leading to bigger customer bills. We already think we see growing customer price sensitivity, which will only get worse during an economic downturn. And from a business standpoint, we also believe a premium ad-supported service is a winning strategy. Ad-supported business has been a proven business model for decades. There are currently more than 250 ad-supported linear television channels, representing 92% of all viewership on linear television, as opposed to a handful of channels that have no advertising, which get less than 10% of total viewership. In fact, the broadcast networks, NBC, CBS and ABC, were profitable for decades with an exclusively advertising-based business model. Networks put shows on the air hoping to attract, say, 20 million viewers, and when they did, they made money on advertising. This is what Peacock is going to aim to do. And in some ways, we're creating the equivalent of a 21st century broadcast business delivered on the internet.
But, who looks at ads anymore? Do they think that no one is focused on ad support premium content because no one will pay for premium content? Or that those who buy premium content buy it because it is ADVERTISING FREE?
And what "economic downturn" are they talking about? Do they know something we don't? And do you really think that paid advertising TV is better programming? People DVR shows, and stream through commercials.
Entrepreneurs must never forget that strategy not only defines you; it is critical to have the right strategy. NBC's is not the right strategy, and time will tell the truth of that statement. And, having the "right" strategy is really important if you are talking advertising, where your investment can evaporate quickly with the wrong one.
What are the characteristics you need to attack problems?
My answer here was simple: read a lot, listen and think it through. When I was asked what to read, I said, "The classics." Another panel member said, "Read everything. That way you can talk to people about anything when you network."
That's not true. Because the problem with reading everything is there is no time to read everything.
One of the students came up to me afterward and asked me about reading. I gave him my card and said if you e-mail me, I will send you my reading list. He did. And I did.
In Alas, poor Yorick! Do you know him? I described my experiences sitting at a panel discussion regarding the curriculum at University of Phoenix, and we were talking about how their current environment was not friendly for students who want to enroll in the B.A. English program. I was invited personally by Dr. Amy Smith, the Academic Dean, to provide industry insights to the Advisory Council on Humanities. She wrote to me, "Every year, we bring together leaders from certain industries that align to our existing and future academic programs to discuss industry trends and future needs and insights. For me, I think of it like a day of Industry leaders and futurists discussing and providing insights into their fields." They wanted me because my degrees were in English, but I was running a business – an unusual combination. You might find the blog interesting.
How do you establish the culture in your company?
I responded that my people set the culture. "I just facilitate it."
Another panelist said, "I establish the culture. The people follow it, but I set the example."
With respect, that was the wrong answer as well.
In Leadership in Today's World, I discuss the answer to the question of the month in a networking group I belong to (they ask one question to get things going). The question was: "What is the most important example a leader should project in today's world?"
I always take a different point of view with questions like this. Having minored in philosophy and theology, majoring in English, I tend to see things in business very differently. Often, I answer a question with a question or I take a negative approach to the discussion at hand (not because I'm the Devil's Advocate, though…).
So, I answered this way: "Can you have a leader without followers? I like to examine leadership from the perspective of the followers of a leader. Your responses all are qualities, of course, necessary in a leader, but the question of what is the most important example a leader should project begs the question: Why do people follow a person?"
In other words, it's a culture question. It's hard to discuss intangible words like "leadership" or "culture," but I do know one thing: one person doesn't do it. You can't be a leader if you have no followers, just like you can't have a culture unless you have people. I would say that followers are just as, if not more, "powerful" than leaders in many cases.
There were a few more questions, like: have you started another business other than the one you had or what should you never do when you start a business? But these ten really were the ones that demonstrated what these young people were all about: curiosity. And after all, perhaps that is the trait most successful people in life have. Somehow, society seems to try to drive that out of us. The good news is, curiosity is one of the traits that once it takes hold, it is very difficult to extract.
Thanks for reading, and please, let me know what you think!
About the Young Entrepreneurs Academy  The Young Entrepreneurs Academy (YEA!) is a 501(C) 3 nonprofit offering groundbreaking year-long classes that teach middle and high school students how to start and run their own businesses. Throughout the class, students develop business ideas, write business plans, conduct market research, pitch their plans to a panel of investors for startup funds, and launch and run their own, fully formed companies and social movements. The project-based program empowers students to take charge of their futures.
Founded in 2004 at the University of Rochester with support from the Kauffman Foundation, YEA! today serves thousands of students nationwide. In 2011, the United States Chamber of Commerce Foundation became a national sponsor and partner of the Academy to help celebrate the spirit of enterprise among today's youth and tomorrow's future leaders.
YEA! bridges the business and educational communities to fulfill its mission of teaching more students how to make a job, not just take a job. YEA! is made possible by The Kauffman Foundation, the U.S. Chamber of Commerce Foundation and the E. Philip Saunders Foundation. For more information, visit yeausa.org.
_______________________________________________________________________
[1] Doug, Whiteman, "These Chains Have Announced a Ton of Store Closings in 2019," January 5, 2020.
[2] In a note to clients, UBS explains its math: online channels such as Amazon are expected to grow their share of the retail sales pie from its current 16 percent to 25 percent by 2026. If that happens, as expected, it would force the closing of 75,000 retail stores. From "The retail apocalypse appears to be accelerating" by Mark Huffman.
[3] It's All Clicking for Wayfair, a Fortune 500 Newcomer, by Jeffrey M. O'Brien, Fortune, May, 2019.
[4] Ibid.